Afraid you're the "worst parent in the world" and feeling insanely guilty all the time?
(For taking time for yourself, taking time for work, taking time to volunteer for school, which takes time from work, for the kids not listening, for wanting to do what you want…)
You CAN wake up in the morning feeling calm and take the day at your pace.
Without giving up on ever tackling that mountain of receipts and unopened mail...or that embarrassing shower situation.
You CAN feel confident about managing your time and getting the important things done.

Without spending hours on complicated schedules, meal plans, and chore charts.
You CAN give your kids your undivided attention and still find the time to do something that you want to do.

Without cramming 48 hours of stuff into 18 waking hours.
You CAN feel confident as a mom.
Without working yourself ragged trying to do everything you've ever seen on Pinterest.
And you CAN enjoy your life (complete with an identity of your own).
Without waiting until the kids are grown and out of the house.
---
CONFUSED ABOUT HOW TO MAKE THAT HAPPEN?
---
There are 155 million blog posts on how to be a good mom. No wonder you're overwhelmed!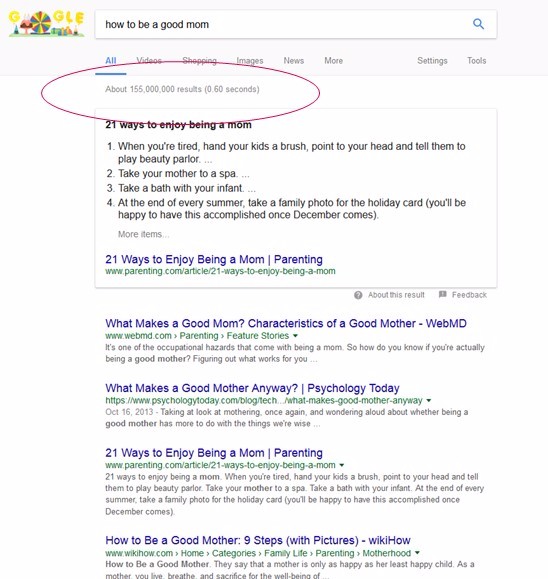 If you don't even have time to read a book, how are you going to sort through that mess?

It's like the answer to all of this is right there in front of you, but you feel like the worst parent in the world because you can't make it work.

Is spending your weekends cooking and freezing meals the answer?
Going minimalist and getting rid of 99% of your stuff?
Taking weekend getaways?
Drinking more wine and eating more chocolate?
Spending 24/7 at your kids' side?